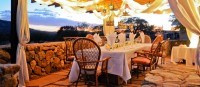 Sunglow Ranch, an intimate guest ranch property and birders' paradise in the Chiricahua Mountains in southeast Arizona, has announced that it has received the 2013 Certificate of Excellence from Christine Petersen, President of Trip Advisor for Business.
The award is in recognition of Sunglow's achievement of the highest Trip Advisor rating of five on its well-known scale of five circles, based on independent reviews by its guests. The ratings measure guest feedback on specific criteria including value, sleep quality, cleanliness and service. Of 92 reviews, Sunglow Ranch has achieved an overall excellent rating from 93.5% of its reviewers.
According to Sunglow Ranch owner Mitch Sayare, "Trip Advisor's recognition of our continuing efforts to serve our guests exceptionally well is very gratifying, and reflects the strides we have made in both our service level and our commitment to a very special guest experience."
The relaxed atmosphere of the Ranch offers guests a unique southeast Arizona experience with 360 ˚ mountain views, charming casitas and dark skies for unparalleled stargazing. The Ranch is ideally situated at an elevation of 5,340 feet and higher providing cooler temperatures and pleasant relief from sweltering metropolitan areas.
The Ranch offers its guests a way to reconnect with nature in peaceful surroundings, where one can appreciate the restorative value of quietness and serenity. While telephone and television service is available if needed in a central office, these amenities are purposely omitted from guest accommodations. Complimentary WIFI is available to guests who must choose to remain connected with family or the office.
Sunglow Ranch is located less than a two hour drive from Tucson International Airport in the midst of Cochise County, Arizona's most rapidly developing viticultural area. The Ranch abuts the 200,000-acre Coronado National Forest and is in close proximity to the Chiricahua National Monument.
Sunglow Ranch hosts a variety of events and provides a convenient location for exploring local festivals, wineries and ghost towns. The wonderfully historic towns of Bisbee and Tombstone, Arizona are within an hour's drive.
In addition to exceptional lodging and cuisine, Sunglow hosts exclusive corporate events and family celebrations, along with weddings, receptions and workshops in photography, yoga, cooking along with frequent winemaker dinners and astronomy presentations.
FOR MORE INFORMATION VISIT
Sunglow Guest Ranch Resort •14066 South Sunglow Road, Pearce, Arizona 85625 •Toll Free: (866) 786-4569