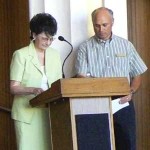 DAVID WOODRUFF NAMED CHAIRMAN OF THE BOARD OF THE CHANDLER CULTURAL FOUNDATIONChandler Cultural Foundation Announces New Officers for 2011/2012 Season
CHANDLER, Ariz. [June 24, 2011] – The Chandler Cultural Foundation, which facilitates programming and funds development for the Chandler Center for the Arts, announced new officers for the 2011/12 season.  They are:  chairman of the Board David Woodruff, vice-chair Rich Frazier, secretary Anne DeRose, and treasurer Steena Murray.
David Woodruff replaces Ernie Serrano, Jr. who served as Chairman of the Board from 2008 to 2011.   Woodruff has served on the Chandler Cultural Foundation Board of Directors since 2009 and was Vice Chairman from 2010 to 2011. He also serves on the Board's fundraising committee.
A Chandler resident for more than 20 years, Woodruff is currently the Manager of Business Development for Chandler Regional and Mercy Gilbert Medical Centers.  He also currently serves on the Board of Directors for the Chandler/Gilbert YMCA.
Woodruff received his Bachelors of Science from the University of Nebraska in Business Administration and Finance and his MBA from the University of Arizona.
"I am honored to serve as the Chairman of the Chandler Cultural Foundation," said Woodruff. "Chandler Center for the Arts is an icon in our community and I am committed to continuing the success that our mission asks of us.  We have a strong and dedicated board and talented staff members, all working together to ensure our ongoing success." Read more