The Sun Lakes real estate market typically trails the real estate market of the surrounding non-active adult communities by about a year.
Why does this matter?  Because the Phoenix Metro real estate market is exploding.  Low inventory is creating a supply and demand issue.  Multiple offers are received on properties listed for just a few hours with bidding wars driving prices up!
Here's a chart that illustrates the average sales price per square foot in the Phoenix Metro area over the past couple years where it's easy to see how quickly values are rising.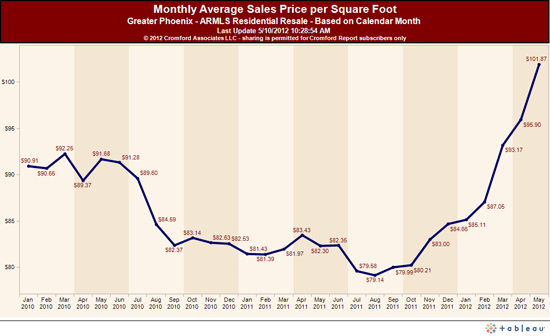 Prices started going up when inventory started going down.  Here's a snapshot of the inventory of homes for sale in the area over the last year.  We are down to below half of the number of homes for sale this year as compared to last year at this time.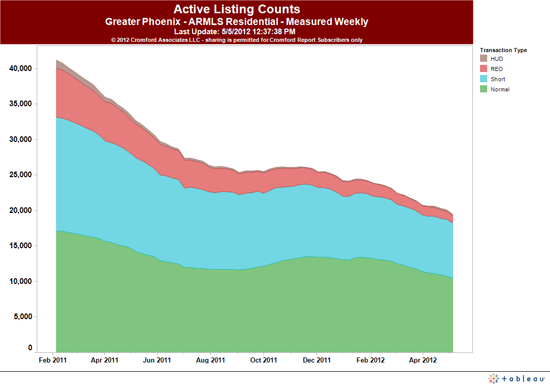 This is great news for Sun Lakes homeowners because we are starting to see the fall of the home inventory in Sun Lakes as well.  Will it create a supply/demand issue in Sun Lakes?  If history is any indicator, the answer to that question would be "most likely".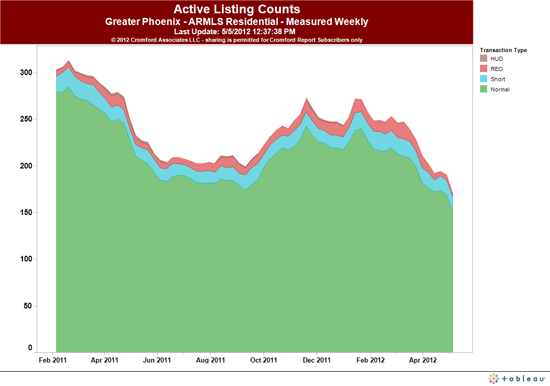 The great news for buyers is that Sun Lakes is not seeing bidding wars at this time.  So, if you're in the market for a home, it's a great time to be a buyer here.  Prices are lower than they have been for years and if we're really as close to the "bottom" of the real estate market, we've got nowhere to go but up.  So, don't wait to long or you'll be just like buyers in the rest of the Valley saying…"we wish we would have bought sooner."
Amy Jones Group – RE/Max Infinity
2450 S. Arizona Ave   Chandler, AZ
Phone: 480-250-3857 
Email:  Amy@AmySellsAZ.com
Blog: http://www.sunlakesblog.com/
 Top Producing Sun Lakes REALTORS Sun Lakes Residents