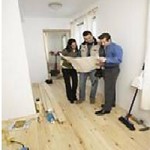 Nothing is certain in the home-buying process until the keys are in your hand. There are still hurdles to jump before it's yours, and your actions from start to closing can create slowdowns and even halt the sale. If you're thinking of buying a home soon, here are the top five things not to do before closing on a home:
1. Don't make a major purchase. While you might be imagining a new car to fit nicely in your garage, hold off. If you're depending on a mortgage to move in, it'd be smart to wait until after closing for that car. An increase in your debt to income ratio reduces the amount of monthly income available for your mortgage payment.
2. Don't change jobs unless it's necessary. Lenders like to see a consistent job history. They aren't usually as nervous if you change jobs within the same field, but it's better to stay put until the new home is yours.
3. Don't let your emotions take over. Keep a cool head during the entire home-buying process, especially during and after a home inspection. Be realistic. No home is perfect, especially older homes. Decide what type of repairs you can realistically tackle and then stick with the decision.
4. Don't become best friends with the seller. It's important to be friendly, but don't get into too many long discussions with the sellers, because personality conflicts often cloud judgments. Remember, this is their home. A casual statement about ugly carpet might be enough to keep the seller from negotiating with you about repairs or other issues that crop up.
5. Don't ignore lender requirements. Know what is expected of you and take care of it. That's something you must handle yourself. Answer lender questions and provide required paperwork as quickly as possible — moving into a new home depends on it.
For more information on how you can make the buying process a seamless transaction, contact me today.
Joan Byrnes, SRES
Realty One Group
joan_byrnesmartin@msn.com
www.SunLakesLiving.com