Sun Lakes Information - Management Contacts - Country Clubs and Associations
Sun Lakes is comprised of 5 separate country clubs - please direct your request for information about to the appropriate management group. See Map below if you are not sure which HOA group you want.
Management Group CONTACT INFORMATION

HOA Associations - Country Clubs - Please direct your questions to the appropriate country club management group.
For questions about this Website only and advertising in the commercial business directory.
NOTE: Resident, Real Estate, and Community Organization ads are free.
Sun Lakes of Arizona Community Website
P.O. Box 24
Bedford, MA 01730

email form Website Support Only - Questions about the country clubs, restaurants, golf courses, etc ... will not be replied to. For Association questions - call the the applicable HOA - Homeowner Association Support Phone number.)



See the Country Club choices on the menu for club specific management contact information.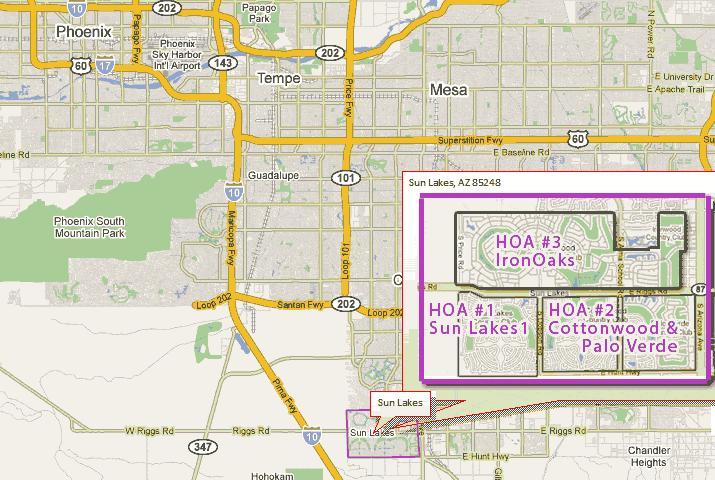 Overview
Sun Lakes of Arizona is a community Website for Sun Lakes residents and service providers. Residents love to share information with friends and family around the globe.
Primary features include:
Pictures and information on the amenities of Sun Lakes.
Classified Advertisements, FREE for Sun Lakes residents. request a free account

Notices for Open House and Estate Sales. FREE for Sun Lakes residents, realtors and agents. request a free account

Real Estate Directory with virtual tours of featured properties. FREE for Sun Lakes properties - owners or agents - (more information)
Business Directory of local service providers. List your business. Fee based. (more information)
Frequently Asked Questions
Why is there a Sun Lakes of Arizona Community Website?
It was needed. Sun Lakes is a big community with three homeowner associations representing the five country clubs (Sun Lakes, Cottonwood, Palo Verde, IronWood, and Oakwood) and its members. A central Website provides current and easy access to common interests and information.
Sun Lakes of Arizona provides residents, businesses, and prospective buyers an online community for the exchange of information and the marketing of goods and services.
Prospective buyers from near and far have a convenient site to search and explore property and the community. A Real Estate Directory, Open House Notices, and maps to the properties make this a one stop source.
How do I post a FREE Classified Advertisement?
On the menu, mouse over the Classifieds drop down menu. Choose the Add/Change/Delete menu option. If you are not already signed in, a Sign in screen will prompt you for your email address and password. New members will need to create an account first. Once you have created your account and are signed in, an Authorized Account Holder Menu appears and you may then place new advertisements or change the ones you have already posted.
To place a new advertisement, select the type of ad (For Sale, Wanted, Free, Notice), and then the category (from Arts & Crafts to Tools), complete the form and click update to submit your ad. Your ad will run for one month. You may edit your ad(s), cancel your ad(s), change your mind and turn it back on, and you may extend the display time on your advertisement without re-entering it.
Since this is a FREE service for Sun Lakes residents, your account registration information will be validated before the account is activated. This helps to keep the postings limited to use by Sun Lakes residents.
How do I list a house for sale or rent? (Advertise your property free of charge.)
Open house notices for Sun Lakes properties are FREE for realtors and homeowners. Notices may be placed up to eight days in advance and run up to and including the date of the open house. Daily Open House and Scheduled Open House reports are available from the homepage.
If you want to advertise a Sun Lakes property for sale or rent, there are two options: Basic Directory and Detailed full page options. Both of these advertisements run for six months unless your turn the listing off or extend the listing. Basic Service includes a single picture and description. Premium Service advertisements include all the Basic service options plus six additional large images along with enhanced descriptions. View samples or request a listing
I'm not a resident but would like to place a "wanted ad" for a home or rental. Can I do that?
What about protecting my email and identity?
We use a secure method where your account email address is never displayed. When a responder wants to contact you, they click the reply button, complete the mail form and submit the form for processing. We then anonymously resend this information to you and you may respond to your inquirer directly by email or phone if provided. You can provide your name and your phone number in your Classified Advertisement but it is not required and we do not include it. We display a Send mail button on each ad that will anonymously send a responder's inquiry to the email you provide us.
Didn't find what I was looking for.