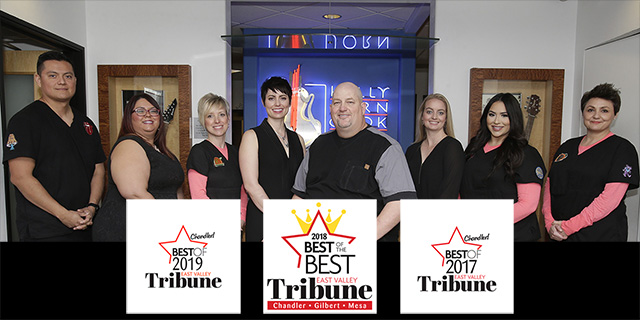 Kelly Jorn Cook, DDS, has been chosen three years in a row as the Best Chandler Dentist by readers of the local publication East Valley Tribune, in an open reader survey where locals vote their choices on the best restaurants, shopping, nightlife, food, entertainment, things to do, services and more.  The winners are based on popularity.
Kelly Jorn Cook, DDS' popularity is based on the quality of service and patient experience provided.   They constantly work to exceed expectations.  If you want to be treated as a VIP, you have come to the right place.  Even if you don't want VIP treatment, you're still in the right place.  Kelly and his staff have a lot of compassion for their patients and cater to patients who have dental anxiety.  Kelly loves beautiful smiles and beautiful music. So, he blended those two loves into his unique creation: a dental practice designed to take your attention off of the dental procedure in a stress-free anti-anxiety dental environment, with the rock and roll décor and great tunes.  Additionally, conscious oral sedation is available for patients with extreme dental anxiety.
True Dental Artistry
Kelly excels in blending artistry and his technical ability to give you the smile you want and deserve!  Beyond great general dentistry, Kelly is recognized for his talent in creating remarkable smiles.  His practice provides full service: general and family dentistry, crowns, bridges, root canals, dentures, dental implants and all-on-4 hybrid dentures. His specialty is creating beautiful smiles.
Treatment options are provided and discussed based on each patient's individual desires. Patients frequently ask what's the best method to permanently improve their smile or to replace missing teeth.   Communications are key and Kelly provides his patients with options and recommendations so they can make the best choice.
Kelly Jorn Cook, DDS in Chandler, Arizona has served patients in the East Valley for 30 years.   Most dental insurance PPOs are accepted, and third-party financing is available.
Whether you have a question about missing teeth or just require routine dental hygiene visits, we invite you to become a part of our dental family.
You can visit us online to learn more about us or any dental topic of your choice at Kelly Jorn Cook, DDS
Kelly Jorn Cook, DDS
3800 W. Ray Rd, Ste 19
Chandler, AZ 85226
Tel: (480) 899-4477